---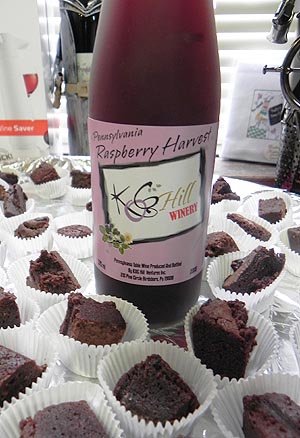 ---
Kog Hill Winery, established in 2002, was founded on the principal of producing quality wines from Pennsylvania grown fruits. Our winery's tasting room is located across from the landmark Windmill Family Restaurant and is nestled along the foothills of Pennsylvania's Amish Country. Kog Hill Winery is also conveniently located off of the PA turnpike, great for those winelovers from the Philly area and is just minutes south of the Greater Reading area. Kog Hill's tasting room features over 20 award winning Pennsylvania wines, ranging from sweet to dry, wherein you can discover a favorite all your own. Looking for wine-themed gifts? Kog Hill also features a festive gift shop. Visit Kog HIll to taste the spirit of Pennsylvania.
Visit our winery website for our hours of operation:
www.koghillwinery.com/
Kog Hill Winery
105 Twin County Road
Morgantown, PA 19543
610-913-6609
Pennsylvania Turnpike to Morgantown exit. Located at the intersection of Route 23 and 10 (across from the landmark restaurant "The Windmill" on Route 10 south.
To Kog Hill Winery from Manatawny Creek Winery:
Exit winery heading southwest onto Levengood Road for 1 mile; turn left onto Blacksmith Road. Immediate left onto Old Swede Rd / Route 662. Follow Swede Rd for 3 miles. Turn right onto Route 422 and follow it for 10 miles. Exit I-176 South towards Morgantown – follow for 10 miles. Take exit 2 onto PA – 10 South / PA-23 towards Honey Brook and merge onto Morgantown Expressway South. Follow for 1 mile. Right onto West Main St/PA-10/PA-23. Turn left at PA-10/Twin County Road. See winery on left.
To Kog Hill from Clover Hill Winery:
Exit winery heading East onto West Meadow Rd; turn right onto Robesonia Rd. Continue onto Bernville Road/PA-3033/SR-6047 for approx 2 miles. Turn left onto Conrad Weiser Pkway/W Penn Ave/US 422 and follow for 9 miles. Exit 422 East and follow for 2 miles (towards Lancaster/Pottstown); merge onto 422 East and follow for 4 miles. Take I-176 South towards Morgantown and follow for nearly 10 miles. Take exit 2 (PA-10 South/PA-23 South) towards Honey Brook. Merge onto Morgantown Expressway South and follow for 1 mile. Turn right at West Main St (PA-10/PA-23) and then turn left at PA-10/Twin County Road . Winery on left.