Winter Warmer, wine tasting weekend!
Save on heating oil; warm up with wine this Winter!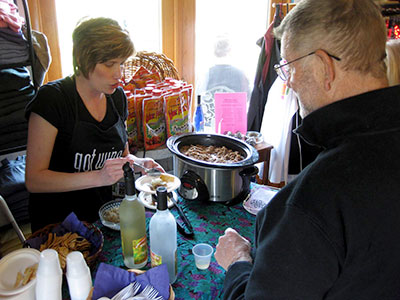 The wineries of the Berks County Wine Trail, during Saturday January 13th and Sunday January 14th 2018, Noon to 5 PM both days, will warm you up with a cozy selection of warming wines paired with hot soups, or soothing warm dishes. Check out the menu of pairings featured during our 2017 event at our participating wineries; menu for our 2018 will be posted December 2017:
Blair Vineyards (Kutztown) Adds heat to the frostiest of days with samples of a Spiced Sweet Potato Soup paired with the winery's white wine blend of Sauvignon Blanc, Riesling and Pinto Gris called 'Lovers Leap.'
Weathered Vineyards (New Tripoli) Looking for something warm to fill your belly on a cold winter day? Taste a sample of homemade Pasta Fagioli made with the winery's own Merlot red wine and served with a tasting of Merlot itself!
Stone Barn Cellars (Spring City) Prep yourself for the coldest of days with a luscious cream of wild mushroom soup paired with a 2015 Merlot. This rich soup loaded with umami & fresh herbs is a perfect compliment for a mellow, dry red wine.
Stoudt Country Winery (Bernville) Welcoming escape from the cold weather? Snuggle up with warmed spiced apple wine paired with the ultimate in warming comfort food: a taste of apple pie!
Manatawny Creek Winery (Douglassville) Creamy cauliflower soup paired with 2014 Chardonnay white wine soothes the soul on any Winter afternoon. Always lovely to discover a wine to enjoy with a steamy bowl of soup!
Kog Hill Winery (Morgantown) Slow cooked warmth as spoonful of Southwest Turkey Chili paired with the winery's signature 'Twin Valley Red' wine. A soft, lightly sweet red that mellows out the heat of the chili.
Calveresi Winery (Bernville) heats up with a hot new release of Malbec red wine paired with slow cooked Argentine Chili with Chimichurii.
Long Trout Winery (Auburn) Get it while its hot! Roast pepper/bacon soup paired with "Omnipopular" Cabernet Sauvignon red wine and Lemon Chicken soup with "Afternoon Delight" Pinot Gris demi sec white wine.
Pinnacle Ridge Winery (Kutztown) Turns up the heat with local bistro, Camillo's (Kutztown). Warmth will be bubbling over with an old Italian soup recipe featuring sausage, potatoes, herbs and parmesan. Pair with either 2015 Chambourcin or 2015 'Quaff' red blend. Note: no buses or large groups, please.
Ridgewood Winery (Birdsboro) warm welcome from newest member of the wine trail with red velvet cupcakes paired with warmed, spiced Cabernet Sauvignon red wine. During your visit on Saturday 1/14, you can also snuggle up with $5 chili bowls as part of a "Blankets of Hope" charity fundraiser.
This event is free, no reservations required. Note that several wineries do charge a nominal tasting fee for their full wine list (free refundable with purchase of wine). Plan a day of discovery out on the wine trail via your own self-guided tour. To help plan your day, check out our "Visit Us" page. Additionally, you can plan your day based upon featured wines, geography, your favorite wine or wineries you have not yet discovered. Questions about the event? Email the Berks County Wine Trail.