Winter Warmer, wine tasting weekend!
Save on heating oil; warm up with wine this Winter!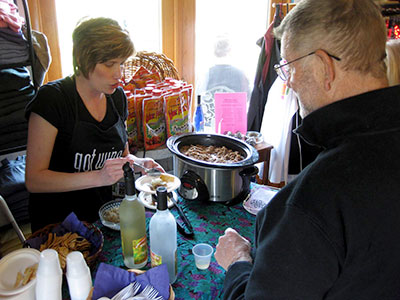 The wineries of the Berks County Wine Trail, during Saturday January 13th and Sunday January 14th 2018, Noon to 5 PM both days, will warm you up from all these cold Winter days with a cozy selection of warming wines paired with hot soups, or other soothing, cozy dishes. Check out the menu of pairings to be featured during our 2018 event at these participating wineries:
Deerfoot Winery (Shoemakersville) – the warmest place on the trail this weekend will be at our newest member winery! To welcome you, the winemake will be serving up samples of a hearty bacon corn chowder paired with their Sweet Riesling white wine.
Blair Vineyards (Kutztown) Kicks off 2018 with their new name, Setter Ridge! And to take the chill off olde-man Winter during your visit – enjoy homemade, three-bean beef chili paired with the winery's smooth & sultry 2012 Wedding Cuvee red wine.
Weathered Vineyards (New Tripoli) heats things up with samples of a hearty Vegetable Barley soup paired with a make-you-think-of-Spring dry, white wine: Pinot Gris.
Stone Barn Cellars (Spring City) Tomato & Parmesan cheese soup samples that are richly thick and velvety will warm your soul as well as brighten the spirit in its pairing with the winery's fragrant 2016 Pinot Grigio white wine.
Stoudt's Country Winery (Bernville) will be serving up samples of warm apple crisp paired with their equally warm Apple Spice Wine..way better than putting on another layer to ward off cold temps.
Manatawny Creek Winery (Douglassville) What better comfort food than chocolate cake on a cold winter's day, right? Enjoy a slice of homemade chocolate cake baked with the winery's own 'Winter Warmth' and paired with this same wine. Winter Warmth is made with a Foch & Chancellor grape blend called Ruby…simmered with spices of cinnamon stick, orange peel and all-spice.
Kog Hill Winery (Morgantown) Spice it up on a bitter cold day with Southwestern style turkey chili paired with this winery's unique spunky blend: "Cran-bernet"(Cranberry & Cabernet Sauvignon blended red wine.
Calveresi Winery (Bernville) dive into a warm, creamy & savory cheese fondue paired with the winery's warmed Apple Wine. This wine has been cleverly fermented with brown sugar and raisins.
Long Trout Winery (Auburn) Love a good chowder on a cold day? Cuddle up with samples of homemade Cheeseburger Chowder paired with Sensual Inuendo (Muscat Canelli) wine; or Roast Red-Pepper soup samples with Blackberry Merlot blend red wine.
Pinnacle Ridge Winery (Kutztown) snuggles up with Cafe Frais (aka Tre Locally Sourced Food Truck) to serve up a wintertime escape: Moroccan Lentil Soup. Slow cooked with locally sourced lentils and vegetables …soup is zesty warm with turmeric, garlic, cumin & cinnamon. Soup will be paired with choice of dry red 2016 Chambourcin or 2016 Quaff which is a medium sweet Chambourcin blend. Note: when visiting this winery, no buses or large groups, please.
Ridgewood Winery (Birdsboro) will be turning up the thermostat with warming glasses of winter-time spiced wine made with Cabernet Franc red wine.
This event is free, no reservations required. During your visit, enjoy tastings from many of the wineries'full tasting lists. Note: several wineries do charge a nominal tasting fee for samplings from their full wine list. Fees may either be refundable with purchase of wine or with souvenir wine glass, or other winery arrangement.
Escape your stir-crazy vibe by getting out onto the wine trail via your own self-guided tour with all sorts of warming stops. To help plan your day, check out our "Visit Us" page. Additionally, you can plan your day based upon featured wines, geography, your favorite wine or wineries you have not yet discovered. Questions about the event? Email the Berks County Wine Trail.