Chocolate & Wine Pairing Event Weekend
Wine Trail celebrates Valentine's Day!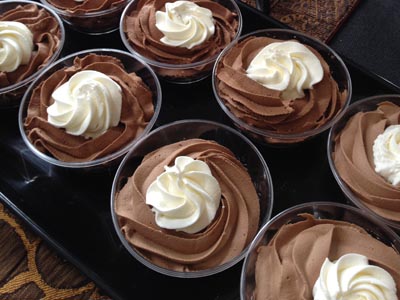 In February, enjoy not one but two of the sweetest weekends ever by pairing wines with chocolates. Toast Valentines' Day during two sweet weekends with someone special; or round up a few friends for a fun valentines' adventure. Enjoy weekend days on the wine trail sampling sumptuous chocolates and confections paired with featured wines of the region. Visit each of the 11 participating wineries along the Berks County Wine Trail to fall in love with your favorite pairing combo.
This unique wine trail sprawls through lovely Eastern Pennsylvania countryside, rich with scenic Winter landscapes. You can plan your weekend on the wine trail by mapping out your own self-guided tour of these wineries. Great opportunity to make a romantic getaway weekend out of your visit…particularly now that there are two weekends to love. Event will take place Noon to 5 PM all four days.
Tickets can be purchased online (see below) at $10/ea if purchased prior to the event dates ($12/ea if purchased the day of the event); online ticketing fees will apply. Tickets purchased can be used during any of the event dates.
See below for the very tempting menu of chocolatey pairings for 2018 Chocolate & Wine event:
Deerfoot Winery (Shoemakersville) – It will be a ball of fun at this NEW member winery during this event. Juggle whimsical chocolate and vanilla cake balls with pairings of two of this winery's wines: Six Point, a red wine and Comfy Couch, a white wine.
Pinnacle Ridge Winery * (Kutztown) – Your tour gets some sparkle during this stop: Blanc de Blanc Sparkling Wine paired with Salted Carmel Apple Cups. These chewy blondies made with cinnamon apples are infused with caramel, topped with sweet crumble and drizzled with chocolate and sea salt. Perfectly balanced treat, melting in your mouth with sips of this lightly sweet bubble. And even sweeter, this wine recently won the Governor's Cup at the PA Farm Show!
Stone Barn Cellars (Spring City)) serves up serene love with slices of velvety chocolate cheesecake with raspberry drizzle. To complete the sensation – pair with their dry red, 2015 Merlot; or their sweeter white wine, Morning Glory.
Manatawny Creek Winery (Douglassville) – romances all with love bites of Chocolate Port Truffles paired with their classic & lush Cabernet Franc Port red wine.
Kog Hill Winery (Morgantown) – gives not only 1 hug but 2 hugs of love when you visit: a red pairing of Chocolate Tort paired with Strawberry Harvest Wine, and a white pairing of mint-chocolate with Gewertztraminer.
Long Trout Winery (Auburn) – known for their love-at-first-sight chocolate wines (yes, wines make with chocolate!) will be paired with samples of the winery's beloved homemade chocolatey cakes and confections.
Calvaresi Winery (Bernville) – we'll all be fallin' in love all over again with this winery's ever-popular, giant, ultimate malted milkballs… paired with their lightly grapey, Autumn Rose wine. And if you are lookin' for some new love; the winemaker will be serving up samples of chocolate truffles paired with a wine mocktail "Cranberry Sauce"….cranberry juice with a jolt of love!
Setter Ridge Vineyards- previously, Blair Vineyards (Kutztown) – gets creative with their love of chocolate by sharing Hot Cocoa Cookies with frothy marshmallow-chocolate frosting. To top off this rich experience, enjoy each bite of your cookie with sips of Three Sisters dry, medium-bodied red wine blend, or the winery's fun, semi-sweet red blend called, Clink & Drink.
Stoudt's Winery (Shartlesville) – reminds us how love is everlasting at their winery. Dip into their tradition of chocolate fountains for Valentine's Day! Confections and fruits for you to hand-dip in milk chocolate and white chocolate fountains… finished with a splash of Strawberry Wine. The berries used to make this wine pairing were picked from a local Berks County farm, too!
Weathered Vineyards (New Tripoli) – lays out the velvet, rich with chocolate love by pairing old-fashioned chocolate fudge with their classic Merlot red wine. An ultra smooth duo!
Ridgewood Winery (Birdsboro) have your cake and drink it too during your visit to this winery: two-ounce dark chocolate cups filled with award-winning blackberry wine will be served up. Yes, you can eat your chocolate cup after you sip the wine! And for further sweet romance, the winery will also be pairing their favorite Red Velvet mini-cupcakes.
To purchase tickets for either event weekend :

Online ticket processing fees do apply. Tickets include the featured chocolate & wine pairing at each winery during this event.
Please note that several of the wineries do charge a nominal fee for tastings from their complete wine list. Tasting fees, depending upon winery, are either refundable with purchase of a bottle of wine or include a keepsake wine tasting glass.
Planning on spreading the love with all your sweethearts? Please, all GROUPS larger than 8 people it would be very helpful if you contacted the wineries you plan on visiting to let them know about your groups' plans to visit. Your call will be helpful for winery planning to make your visit sweet! *Please note, no buses or vans or limos can be accommodated at Pinnacle Ridge Winery.
Questions about the event? Email the Berks County Wine Trail.