Chocolate & Wine Pairing Event Weekend
Wine Trail celebrates Valentine's Day!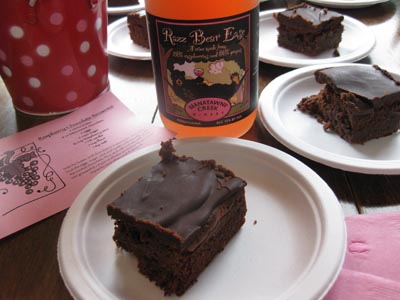 In February, enjoy the sweetest weekend ever! Toast Valentines' Day weekend with someone special; or round up a few friends for a valentines' adventure and enjoy a weekend visiting 10 wineries along the Berks County Wine Trail which spans lovely Pennsylvania countryside. You can plan your weekend on the wine trail by planning your self-guided tour of the wineries. Want to make a romantic getaway weekend out of your tour? Read below for details about two hotel packages for wine trail attendees. Check back in early 2018 for a complete menu of chocolatey pairings, but in the meantime here's what several of the wineries were already sweet on for Valentine's 2017:
Pinnacle Ridge Winery ** (Kutztown) brings their Valentine, The Mediterranean Grille of Fogelsville, to share fresh baked baklava filled with honey, cashews, pistachios and of course, drizzled with chocolate! Paired with this treat will be the new 2016 Vidal Blanc white wine. Produced in the classic German tradition of stopped fermentation, you'll fall in love with this wine's crisp finish and aromas of peaches and nectarines. *
Stone Barn Cellars (Spring City) Love is stirring with a beautiful Chocolate Mousse Trifle paired with white wine, Morning Glory. The wine's citrus and tropical notes are perfect compliment to this light and creamy bowl of indulgence. As always Gluten free as is everything at the winery.
Manatawny Creek Winery (Douglassville) fuels our love for chocolate with homemade brownies charged up with raspberry ganache drizzle paired with Raspberry Wine.
Kog Hill Winery (Morgantown) love is harmonious when opposites attract: homemade fudge brownies paired with Strawberry Harvest Wine or Chocolate-covered bacon with the winery's own Harmony Wine.
Long Trout Winery (Auburn) Got chocolate? Got Wine? Got chocolate wine?? This sweet stop will be paired with an array of chocolate wines & baked confections: rum rice raisen pudding, or pecan noodle kugel, or 'bacon crack' cheesecake.
Calvaresi Winery (Bernville) shows how ultimate love can be with pairings of ultimate malted milk balls and sumptuous Autumn Rose wine or love bites of Peanut Butter Chocolate Pretzel with sips of deep, red Merlot.
Blair Vineyards (Kutztown) Get hitched with a sip of the winery's 2012 Wedding Cuvee red wine paired with bites of Fudgy Chocolate Chunk Brownie. You can also buy Valentines to take with you: Girl Scout Cookies will be available for sale.
Stoudt Country Winery (Shartlesville) – back by popular demand: the chocolate fountain! Enjoy dipping snacks & fruits in the waterfall of chocolate. Bonus feature: hand-dipped strawberries covered in chocolate. All paired with Strawberry Wine.
Weathered Vineyards (New Tripoli) – will be featuring chocolate covered strawberries paired with Pinot Noir red wine. Available for purchase will be chocolate truffles to purchase to enjoy with wines on the full tasting menu.
Ridgewood Winery (Birdsboro) – newest member to the wine trail! Winery welcomes everyone with sweet bites of locally made chocolates, Lorah's Chocolates of Mohnton, made with Blackberry wine and sweetly paired with Blackberry wine.
*This event's featured wine/food pairings are free; please note that several of the wineries do charge a nominal fee for tastings from their complete wine list. Tasting fees, depending upon winery, are either refundable with purchase of a bottle of wine or include a wine tasting glass.
Make your visit to the wine trail a romantic getaway weekend with these sweet hotel specials:
Plan on spreading the love with all your sweethearts? Please, all GROUPS larger than 8 people it would be very helpful if you contacted the wineries you plan on visiting to let them know about your plans to visit. Your call will be helpful for winery planning to make your visit sweet! Please note, no buses or vans or limos can be accomodated at Pinnacle Ridge Winery.
Questions about the event? Email the Berks County Wine Trail.